« Origin », simply the most stunning underground show in the world !
18 June 2018
This truly amazing show has been enjoyed by visitors since the summer of 2018 and is the brainchild of Luc Petit, a truly creative genius of the scenic arts. He has created many unforgettable shows, and has (among others) worked with Franco Dragone, Jean-Paul Gaultier and Disney.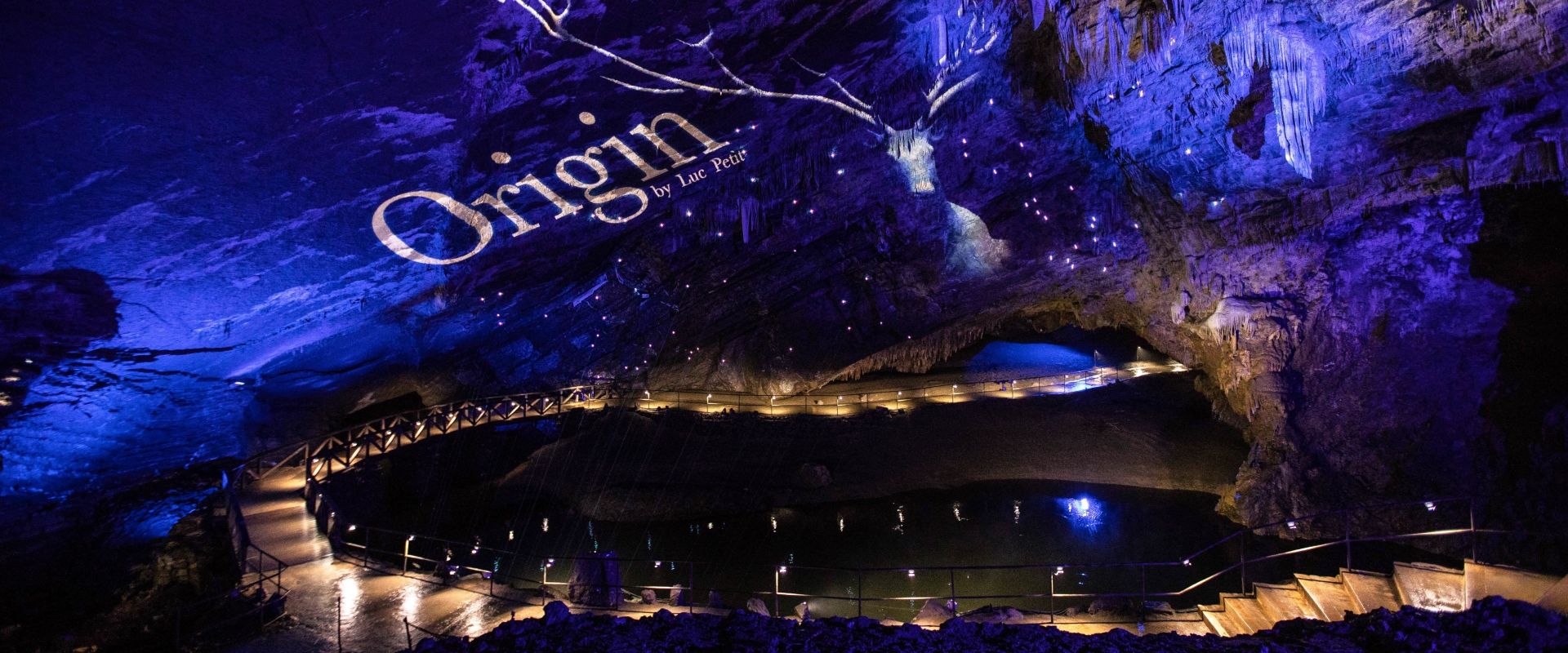 The cherry on the cake
We've just completed the finishing touches to our brand-new cave lighting, which has revealed the entire Cave in an enchanting new light. The Cave's natural beauty has been sublimated, revealing chambers each more awe-inspiring and entrancing than the last...
At the heart of the cave, the majestic Weapons Rooms will be highlighted by a brand-new sound and light show, using state-of-the-art video-mapping and laser technology. And we could not have found better man for the job than Luc PETIT, the famous Show Director, whose unique creation has sublimated the Cave!
Luc PETIT is considered a veritable virtuoso of the scenic arts and, for each of his shows has managed to combine different artistic disciplines with the most innovative technologies to achieve a specific artistic mood, and a surprising atmosphere that permeate his artistic creation, while highlighting both his creative process and his humanistic approach..For the occasion, Luc Petit surrounded himself with the best artists in their fields: the Stage Designer, Marie-Jeanne Gauthé, who specialises in the conception and direction of video projection mapping, the Lighting Designer, Koert Vermeulen, who created a number of designs for the Puy Du Fou, the Grande-Place in Brussels as well as the Champs-Élysées in Paris, and, the composer Benoît Chantry, whose work covers a wide range of musical genres.
A journey through time and elements
The site of the Domain of the Cave of Han lies at the very heart of untamed nature, and bears witness to the history of our world. Over time, the water has carved out and shaped the rocks, and the cave now boasts many mystery-laden galleries and majestic rooms. The fossils that decorate the cave walls are a reminder of the tropical ocean that once covered our area…"Origin" retraces the cave's eventful history, immersing our visitors into a vertiginous succession of magical realms evoking the origins of the world and the cave's creation !
This unique show – specially created for the Domain - will enhance the traditional tour of the Cave!
The people behind the show:
Luc Petit: Artistic Director (Décrocher la Lune, Nocturnales dans les cathédrales)
Anne Roelandt: Production Manager (Luc Petit Création)
Emmanuel Dufoing: Project Manager (Luc Petit Création)
Koert Vermeulen: Light Designer (ACTLD)
Marie-Jeanne Gauthé: Mapping Designer (Festival de Lyon)
Benoit Chantry: Composer
David Huyvaert: Sound Engineer
Inytium: Technical installation
The Domain of the Caves of Han's and Luc Petit Création staff
The show "Origin", facts and figures:
420 hours work setting up the equipment
1.800 meters of cable
36 lights
4 high defintion video projectors
2 lasers
7.200 Watts sound