Babyboom in the Wildlife Park
9 June 2023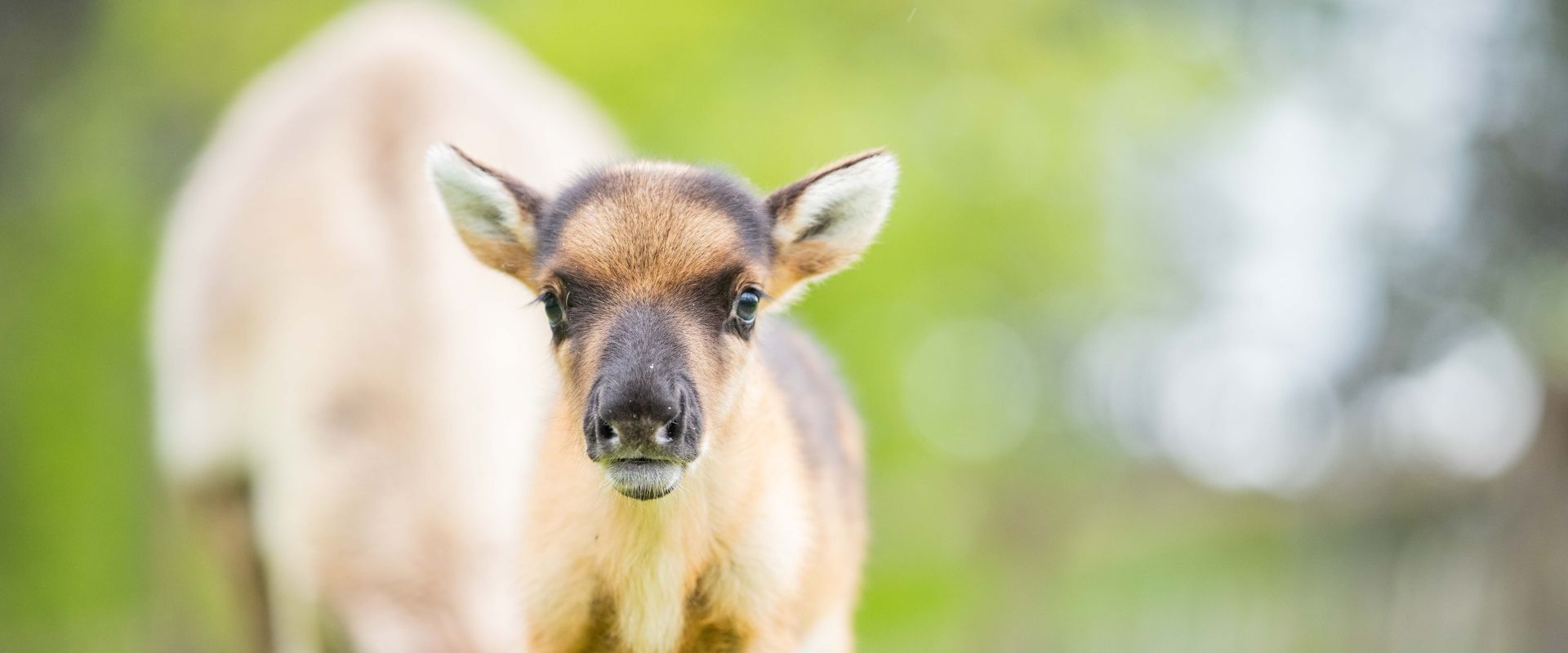 The sunny days are back... and, over the past few weeks, a good many natalities have brightened up life in the Park!

Come and get your fill of cuteness during your visit to the Wildlife Park! Our adorable new borns include: 5 arctic wolf pups, 1 European bison calf, 27 mouflon lambs, 4 boarlets, 7 red deer fawns, 5 baby aurochs, 6 Sika deer fawn, 2 baby chamois goats, 10 Ibex kids, 1 Heck horse foal, tree frogs, yellow-bellied toads and... much to our surprise: 4 baby reindeer!
A bison calf was born!
Great news for the European bison (a threatened species): a small bison calf was just born in the Widllife Park! The calf is the picture of health, and for the time being both calf and mother are enjoying some precious bonding time together, away from the herd.

Each year since 2014, the Park has taken part in a vast reintroduction programme coordinated by WWF, aiming to release European bison into the wild in the Romanian Carpathians. The Domain has also released European bison back into the wild in German and Scottish forests, as part of international reintroduction programmes. To this day, 13 individuals have been reintroduced into the wild by the Domain. We hope that this young bison will one day be released into the wild in the Carpathians and play his part in the preservation of his species in the wild!
The tree frogs continue their adventure...
This year, 3.600 tree frog tadpoles were born in the Domain, as part of a Walloon tree frog reintroduction programme. This project, initiated by Natagora, aims to reintroduce the species in 4 different sites among which one in the Gaume area and one in the Famenne.

The tree trog is a tiny amphibian that used to be quite common all over Wallonia. It disappeared from the southern part of the country about 30 years ago after a long decline of the species. The young tree frogs born on the Domain will be reintroduced into their natural habitat this summer.

A big surprise: the birth of 4 reindeer!
Who would have thought? Unfortunately, Skog, the male breeding reindeer that arrived here last summer, is no more after suffering from a heavy infection caused by a parasite.

So it's no small wonder that our animal carers were taken by surprise this spring by the births of 4 baby reindeer, from 4 different mothers! It seems that Skog has left a tangible trace of his time among us: the 4 baby reindeer are blooming! Sometimes, life is pure magic...
Membership: for a year brimming with adventures!
Want to admire the life of our Wildlife Park's fauna and flora throughout the seasons, enjoy the magic of the 4 seasons, discover all the hidden galeries of the Cave of Han? Treat yourself to a membership and enjoy unlimited access to the Domain of the Caves of Han during a whole year!

Check out our latest news and upcoming events here!