Included in your stay
Accommodation in a Cocoon Tent,
A reserved parking space for the whole of your stay (one space per tent),
Coffee, tea, herbal tea, sugar, milk,
A welcome hamper with tasty local products,

A generous breakfast hamper every morning*,
Exclusive access to the Cocoon Village entertainment and club:

Playground,
Badminton and table tennis,
Barbecue areas,
Cosy bar** with live entertainment during the season,
Themed walks,

One Cocoon PassHan ticket per person. With this special ticket you enjoy unlimited access to the main attractions of the Domain during your stay, as well as on the day of your arrival and departure (the Cave of Han, the Wildlife Park and the PrehistoHan museum),
Discounts for many of the exclusive visits of the Domain. The Cocoon Village discounts on the exclusive visits are clearly mentioned on each exclusive visit's page.
* Please let us know if you have any food allergies or intolerances, by contacting our Bookings Team at least 10 days in advance: reservations@grotte-de-han.be
** Drinks not included.

Discover the exclusive visits of the Domain:
Dates & Rates per stay
You can stay at the Cocoon Village at these times in 2022:
Weekdays in July and August: Monday evening to Wednesday morning, or Wednesday evening to Friday morning (2 nights, 3 days). Price per stay: € 170 per adult, € 85 per child.

July and August weekends: from Friday evening to Sunday morning (2 nights, 3 days). Price per stay: € 190 per adult, € 95 per child.
Weekends at the beginning of September: from Friday evening to Sunday morning (2 nights, 3 days). Price per stay: € 170 per adult, € 85 per child.
2023 Opening times: from 28/04 to 01/10/2023, every weekend and Belgian school holidays. Book your 2023 stay until 31/12/2022 and enjoy 2022 rates!
The Cocoon Tent can accommdate from 2 to 5 guests. From the 3rd adult staying in the same tent, the adult rate is reduced by 25 %. The child rate applies to children from 4 to 11 years old. Children under 4 pay a flat rate of € 10 per night. The minimum price per tent corresponds to the price for 2 adults.
A security deposit of € 150 per Cocoon Tent can be required on arrival, to be paid by credit card. It will be refunded after the inspection at the end of your stay, within 10 working days of your departure.

Optional: BBQ packs
Meat or vegetarian (adult): € 20,50*
Meat or vegetarian (child): € 15*
Fish: + € 2*
* Booking cannot be altered and is not refundable.
If you wish to reserve a Barbecue Pack, please make your order online at the latest by 17:00 on the day before. Your Barbecue Pack(s) will be available from 17:00 on the day of your arrival, or between noon and 20:00 the following day. You cannot order Barbecue Packs for the day of your departure. You can also book your Barbecue Packs for the following day at the reception desk.

Order your BBQ pack online: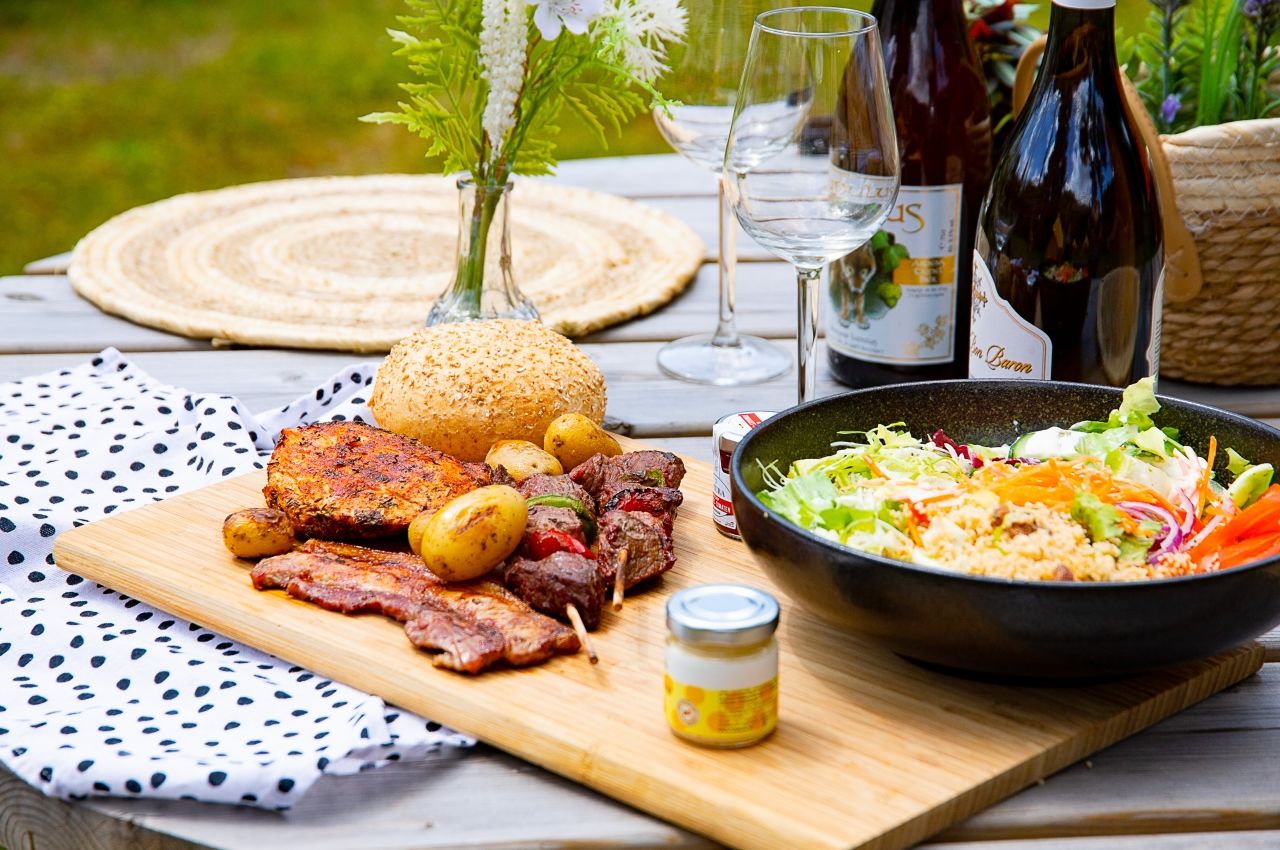 Equipment of the Cocoon Tent
The Cocoon Tent can accommodate between 2 and 5 people.

Each tent is equipped with:
Cosy beds, including bed linen,
An outdoor area complete with garden furniture,
Crockery (washing-up bowl, plates, glasses and cutlery) and washing-up kit (dish towels, soap and sponge),
Tea/coffee making facilities (kettle, coffee machine, coffee, tea, sugar and milk),
A cooler, on request when you check-in.
There is no baby equipment in the tents. There is a baby washing area and a microwave for heating up baby bottles in the communal area.
No baby beds available, you can bring your own.
Bath towels are not included.
Facilities in the Village
In the Cocoon Village, everything is on hand for you to enjoy a top notch getaway:

A heated sanitary building equipped with showers and soap/shampoo, washbasins, toilets and an area for people with reduced mobility,
A washing-up area,
A laundry room (washing machine, tumble dryer) available on request (tokens available for purchase),
Several barbecue areas, a playground, badminton court and table tennis.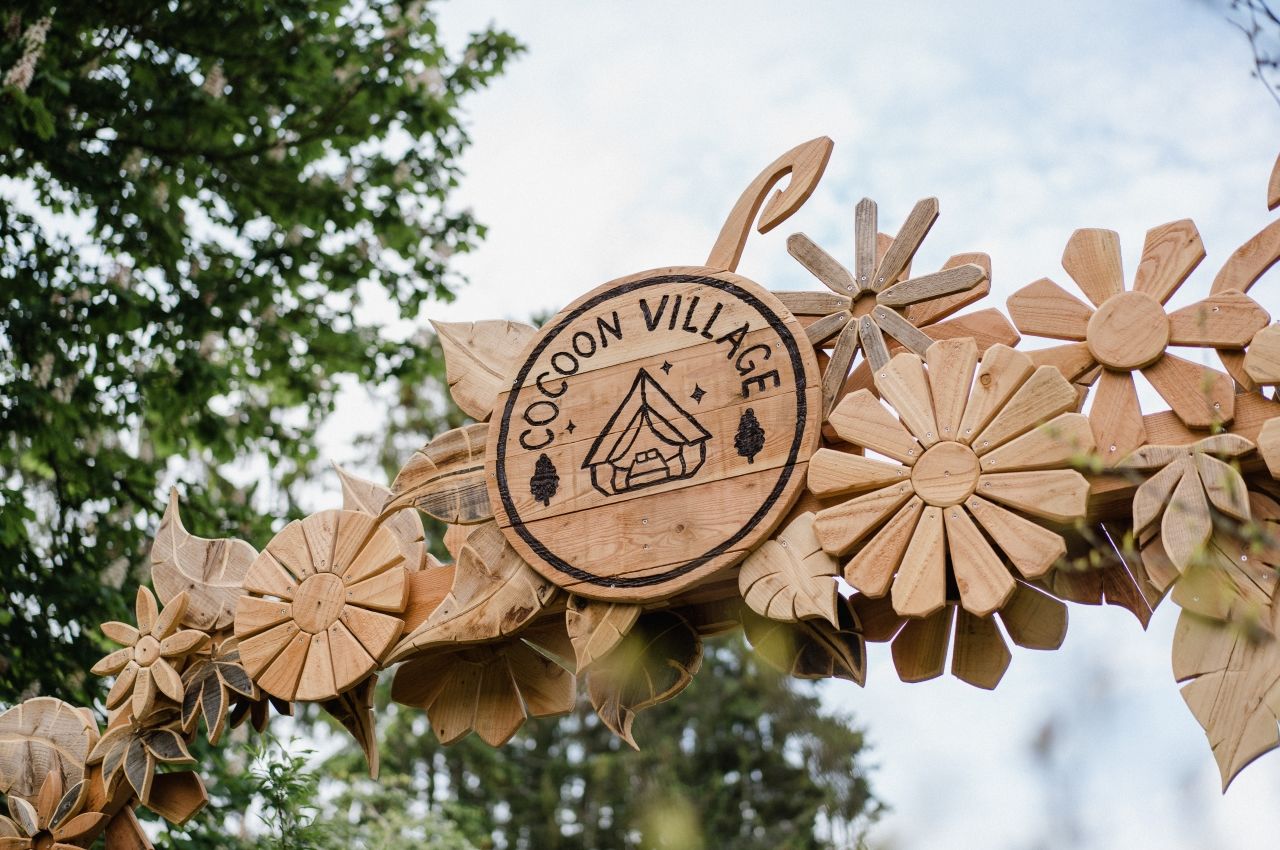 Practical tips
The Cocoon Village footpaths are dimly lit at night. We advise you to bring a headlamp or pocket torch with you in order to go to take a bathroom break, take a midnight stroll along the river Lesse or to spend the evening enjoying the fresh outside air with your family. You should also bring your favourite woolly jumper and some warm clothes.

Bring your own bath towels, as these are not included in your stay.
To make the most of your visit to the Wildlife Park, and admire the wildlife that thrives in the Park, we recommend you pack a pair of binoculars.
Important: pets are not allowed in the Cocoon Village.

Health & safety measures
Your safety and that of our staff is our priority. We have introduced strict health and safety measures to ensure you enjoy a relaxing stay in the best possible conditions.

Located in a 12.000 m² wooded area, the tents are widely spaced in order to ensure total privacy and a safe stay for all our guests. To boot: each Cocoon Tent has its own outdoor space where you can kick back and relax while taking in your beautiful natural surroundings.

For breakfast we provide one picnic hamper per tent, to be enjoyed on the terrace of your tent or at one of the Cocoon Village picnic tables.
Close to nature, in the heart of adventure!