Hanlloween: the invisible world reveals itself...
3 October 2023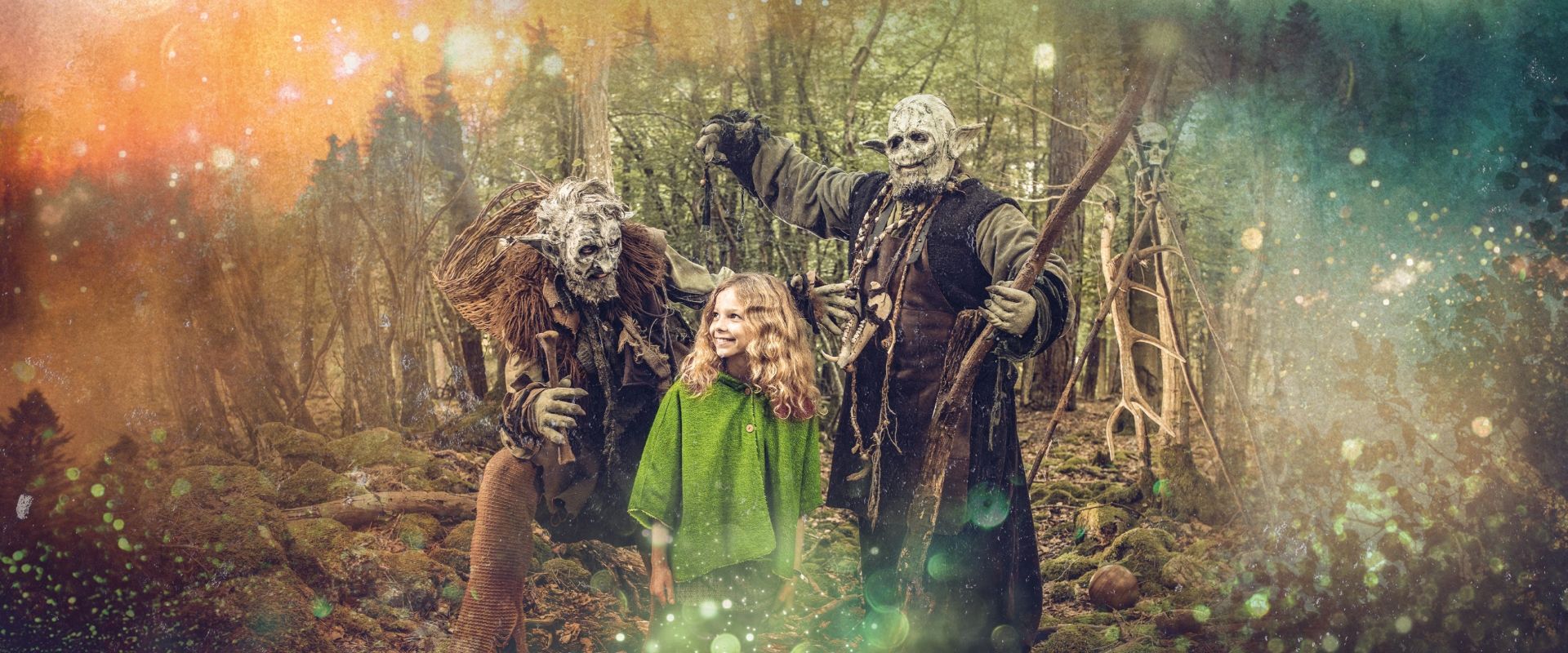 Come celebrate Hanlloween at the Domain! Get ready to enjoy 16 eventful daysfilled with surprising and wonderful events all over the Domain. An amazing experience that will definitely delight both young and old!
The pumpkins are cackling, the spiders are weaving their intricate webs and strange creatures roam the area... Enjoy the macabre and magical world of Halloween, when you visit the Cave or the Wildlife Park from 21 October to 5 November 2023!
The daytime events & activities are included in the standard visits to the Cave and the Park.

Daytime Hanlloween visits
​In the Wildlife Park
The forest spirits are prowling along the Wildlife Park's footpaths, surrounded by wild animals (wolves, bears, lynxes, deer, bison...). But these fantastical creatures with wacky costumes are also accomplished artists: acrobatic dancers, jugglers, stilt walkers... Come and meet them if you dare and let yourself be enthralled by their whimsical acts!
Don't miss out on our extra special animal feeding experiences! They will take place every day from 26/10 to 03/11, along the Wildlife Park's Walking trail.
In the Cave
The mischievous trolls are back in the Cave of Han and have many a surprising trick up their tattered sleeves... Discover the wacky universe of this happy horde that roams one of the most beautiful caves in Europe. Expect thrills, spills and giggles!
On the reception plain
Make up and circus artists, bubbleologist... A festive atmosphere reigns on the Domain's reception plain! Perfect for plunging into a wonderful and fantastic atmosphere...
Hanlloween evening shows
Spend a horrific evening in the Domain of the Caves of Han!
From 29 to 31 October, explore the Wildlife Park bathed by moonlight but be watchful...The Creature has taken possession of the Park and has sent strange watchmen to rove the forest after nightfall. Will you dare brave the darkness and risk encountering these creepy creatures?

Enjoy a 2 km deambulatory show that will take young and old on a journey to the heart of the crepuscular and mysterious forest. Three evenings where you will shiver with pleasure and enjoy a palpitating and hellish adventure among family or friends!
⚠ Visits exclusively in French!
For the kids: feel free to come disguised!
Check out our latest news and upcoming events here!