Book a night
⚠️ There are Tree Tents available for bookings every Thursday in September, on Fridays and Saturdays in October and every day of the week from 1 to 7 November included. If you would like to book a night in one of our stunning Tree Tents, please send an email to reservations@grotte-de-han.be. For more information : +32 (0)84 37 72 13. Important: nights full in September and October! ⚠️
N.B.: The Domain reserves the right to cancel your stay if bad weather conditions are forecast. In this unlikely event, you will receive a full refund.

Equipment
Our Tree Tents can welcome up to 4 guests (with a minimum of 1 adult and a maximum of 3 adults). Each tent is equipped with a huge 2,20 x 2 m mattress, and a second small camping bed (for a fourth person, a child) to make sure you enjoy a good night's sleep. Clean sheets, eiderdowns and pillows are ready and waiting for you in your tent. For the 4th person in the tent: please bring your own sleeping bag. No baby equipment is provided.
In front of your tent, on the platform, you can sit and relax on your very own cosy little terrace, equipped with two chairs and an awning, while admiring the animals gambolling on the grasslands. We will provide you with a small lantern and a headlamp when you arrive. On the ground below the tree, you can freshen up at the washstand, or use the 2 environmentally friendly composting toilets.
COVID-19 health & safety measures
Our Tree Tents are open again! All the necessary measures have been taken to guarantee social distancing (1,5 meter) and health and safety measures at every step of the experience.

The Domain will provide a set of dishes that will be placed in your tent before you arrive. This will also include a washing bowl with cotton towels (for freshening up), plates, cutlery and glasses for your evening meal.
Normally, your evening meal is a barbecue (self cooking), but this is currently no longer authorised. So, our Park Ranger will take care of your barbecue! When the Ranger arrives he/she will establish a barbecue schedule. This way, all the guests can eat and enjoy themselves in full privacy while respecting the social distancing between the different families.
We will not be serving the usual breakfast buffet. Instead, we will provide each tent with a picnic hamper with breakfast. You can then enjoy your breakfast on your tent terrace or one of the site's picnic tables.
Dates
Available on Fridays, Saturdays and Belgian public and school holidays (from 04/04 to 07/11/2020). New: our Tree Tents are also available for bookings every Thursday in September!
You can also book at other times than the aforementioned, providing you book a minimum of 4 tents (subect to availability and you need to book at least 2 weeks in advance).
Important information: we reserve the right to cancel all Thursday bookings up to 10 days in advance, if less than 3 Tree Tents have been booked.
Are included in this deal
A private guided walk in the valley of the Wildlife Park
A full meal including* :

Aperitif (sparkling wine)
Barbecue (self cooking) and drinks: 37,50 cl of red wine per tent + 25 cl of Blonde de Han (our local beer) per person, and as much water and grenadine syrup as you want
Dessert

A night in a Tree Tent
Breakfast
PassHan Ticket (Cave + Wildlife Park + PrehistoHan + Han 1900)
* Please let us know if you have any food allergies or intolerances, by contacting our Bookings Team at least 10 days in advance: reservations@grotte-de-han.be.
Practical tips
In April and May and from mid-September, the nights are colder and we recommend you to bring your own sleeping bag (in addition to the duvets made available on the spot).
Disconnect from the everyday humdrum: there is no electricity and no WiFi on site! The Domain is currently unable to provide you with a "tent kit" (a headlamp, a camping light and binoculars). Please bring your own camping light or headlamp (fully charged). One or two headlamps per family should be more than enough. Out of respect for the animals, please don't bring pocket lamps, as they might dazzle the animals and the other guests and are often a lot brighter than headlamps or camping lights.
Don't forget to bring a pair of binoculars, especially for the kids!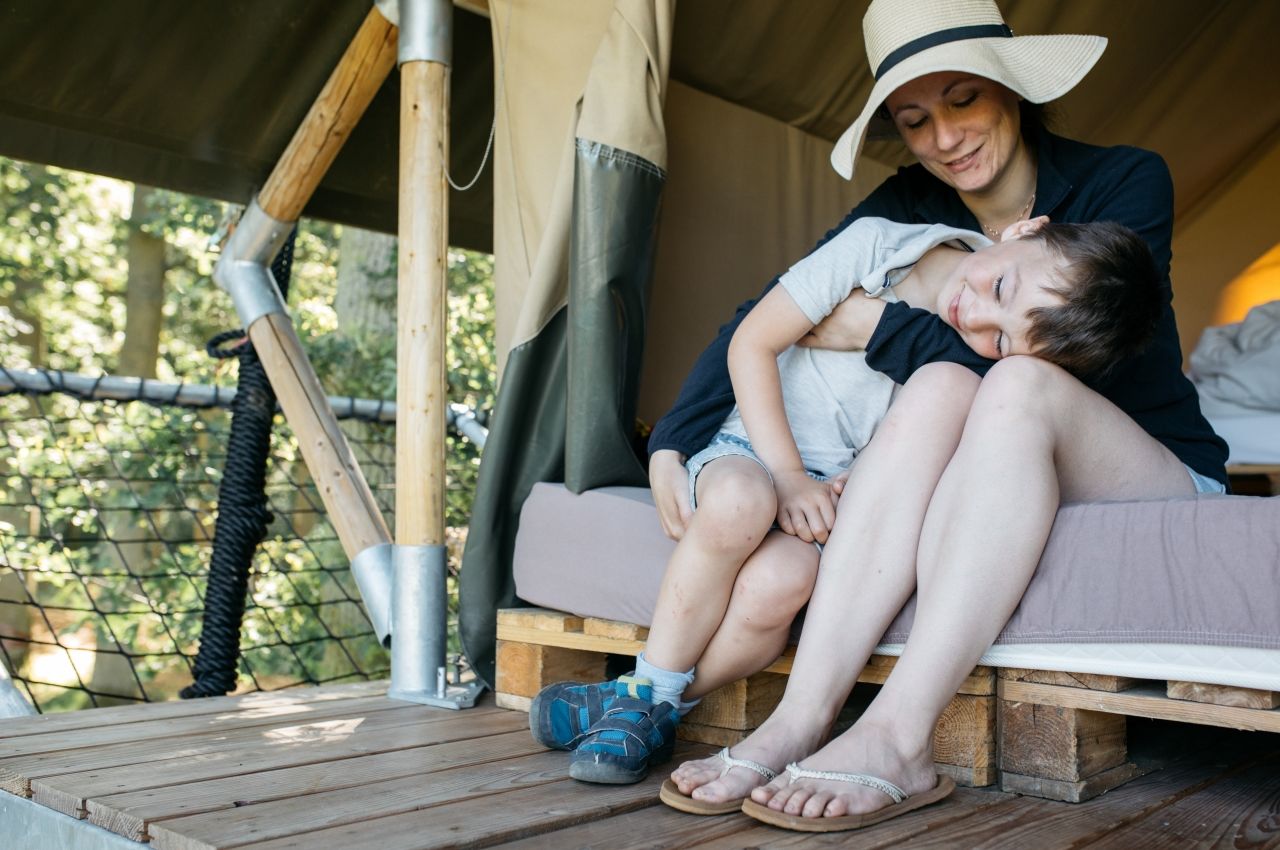 Got questions ?
Feel free to contact our Bookings Team: