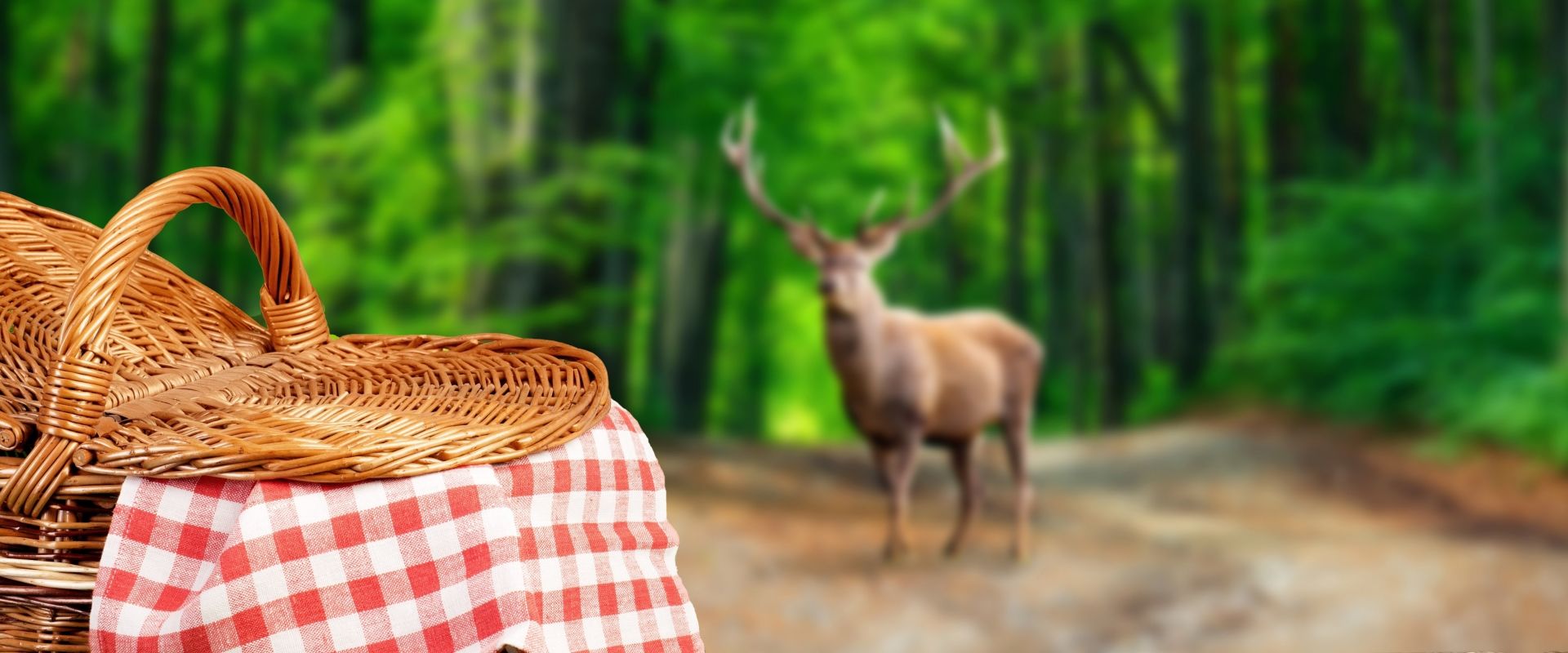 Exceptional moonlit gourmet walk
In the evening, when the visitors have left the Wildlife Park and the animals have reclaimed their habitat, enter into their mysterious nocturnal world and roam the Wildlife Park's forest paths.
Enjoy a tasty selection of local specialties on different locations throughout the Park while enjoying your beautiful natural surroundings, the deep forest, the many animals that populate the park... While your taste buds enjoy these local delicacies, keep your ears wide open and listen carefully to your guide revealing you the Park's many secrets...A culinary walk in a stunning natural site... The perfect recipe for a lovely evening! And, please, dear gourmet friends, remember: when the pot bubbles, friendship lives!
Visit commentaries exclusively in French!
Our very tasty menu
Aperitif & appetizers:

Ardennes ham mousse & sesame crackers

Cauliflower tartar with curry
Trout, apple, radish and mustard
Grusalle liqueur (local gooseberry liqueur)
Hot soup:
Creamy sweet potato soup with coconut milk and green curry
Cold starter:
Beef tartare with sun-dried tomatoes
Glass of rosé wine « Château Bon Baron "Célébration Rosé 2021"
Cold soup:
Main dish:
Free range beef from the Houard cattle farm
Our own take on béarnaise sauce
Free range Ardennes pork fillet with Orval beer and bacon
Sauce with Saint-Monon beer and honey
Potato salad with spring onioins, old-fashioned grain mustard
Mixed salad with cheese and pine nuts
Pan-fried and glazed seasonal vegetables
Beverage of your choice (you can buy additional beverages on the spot)
Dessert:
Mascarpone and fruit
Coffee
Useful information
Visit on foot and by Safari-bus
Please remember to dress warmly and wear walking shoes!
Meeting place: please make sure that you arrive at the meeting place for your visit at least 15 minutes before the departure time: walk towards 46, rue des Grottes. Walk across the playground towards the owl. Then follow the green arrows (departure with the Safari-bus). If you are late, we cannot guarantee that you can take part in the visit, nor will we refund your tickets.
Booking compulsory
Buy your tickets online from our online ticketing shop:
12 months membership
Enjoy 50 % off a wide range of exclusive visits!